Today Yonoton, the leading expert in digital omnichannel ordering service for the hospitality and entertainment sector, and Adyen, the global payments platform behind many of the world's leading companies, start a broader partnership. The new partnership will allow all Yonoton's customers to benefit from the Adyen platform when accepting payments.
By partnering with Adyen, Yonoton's merchants will be able to benefit from Adyen's payment platform in all channels. With Yonoton, companies can manage ordering and sales across multiple channels, such as in app, general e-commerce, kiosk, RFID wearables or at Yonoton's Point-of-Sale services. Since Adyen's payment platform works across all channels, across markets, this removes the need for multiple payment providers for Yonoton's demanding B2B customers.
This will in turn improve the user experience for millions of end-consumers who purchase through Yonoton's customers. Adyen offers hundreds of payment methods on its platform, ensuring that end-consumers can pay the way they like - regardless of market or channel.
Tobias Lindh, Managing Director of Adyen Nordics & Baltics says:
"We are excited to initiate this collaboration with Yonoton. Adyen prides itself on offering the solutions merchants – and by extension their customers – request to ensure a seamless customer journey when it comes to payments. Yonoton is at the forefront of delivering on this promise within the hospitality sector and we look forward to accomplishing great things in the future together".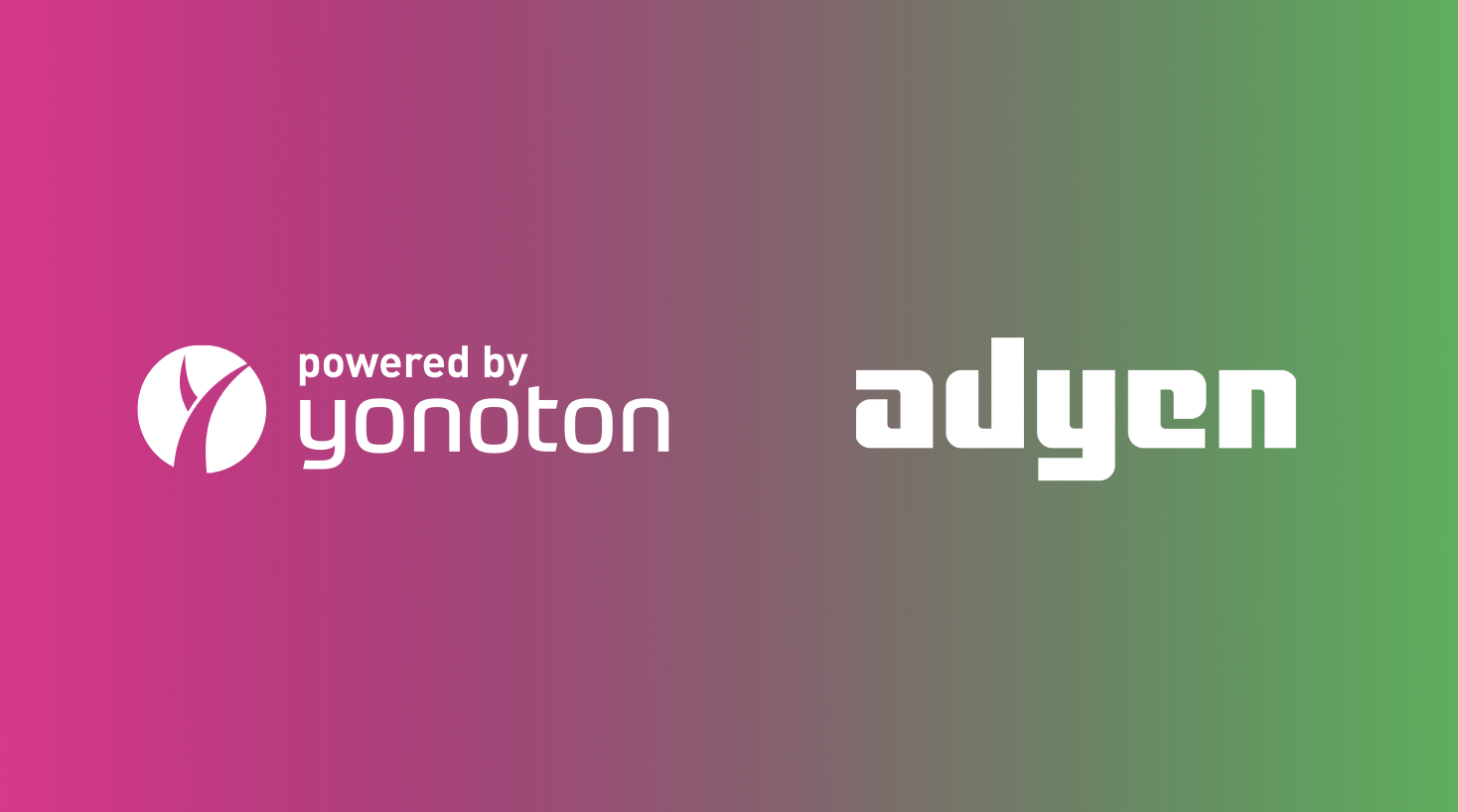 Teemu Karenius, CEO of Yonoton says:
"We have now executed a full integration of Adyen into Yonoton's omnichannel sales platform. Adyen fits perfectly into our strategy, providing our B2B customers a scalable platform to increase their sales and decrease operational costs. Adyen is uniquely placed to support and accelerate Yonoton's international growth. The partnership with Adyen unlocks hundreds of payment methods for our customers, which in turn creates a better user experience for the end-consumer. We look forward to increasing the scale of our platform by partnering with a truly global company - able to handle payments in any channel or market. In practice, this will ensure a smoother customer journey across all touchpoints, from in-app ordering to kiosks and RFID wearables to traditional POS or Yonoton's SoftPos services"
Yonoton is proud to offer its full fletch omnichannel solution together with Adyen to its global clients and reseller network.
————
About Adyen
Adyen (AMS: ADYEN) is the payments platform of choice for many of the world's leading companies, providing a modern end-to-end infrastructure connecting directly to Visa, Mastercard, and consumers' globally preferred payment methods. Adyen delivers frictionless payments across online, mobile, and in-store channels. With offices across the world, Adyen serves customers such as Facebook, Uber, Spotify, Sats, Daniel Wellington and Filippa K.
www.adyen.com

About Yonoton
Yonoton is a versatile digital platform for digital ordering and purchases. Yonoton's omnichannel SaaS platform is widely used within the international hospitality and entertainment industries. One platform for branded app, webshop, PoS, self-service kiosks and order management. Yonoton's clients are privileged to manage everything from one digital platform. Clients include companies such as Sodexo, Coor, Juvenes, Funplays, Dyreparken, Moominworld, Fårup Sommerland and Vierumäki.